Weddings in Ottawa, the capital city of Canada, boast a blend of urban sophistication and picturesque landscapes. As such, capturing these moments in photos becomes an essential aspect of any wedding celebration. However, with so many photographers available, one pressing concern for many couples is the cost. Here's a detailed guide to understanding Ottawa wedding photographer prices.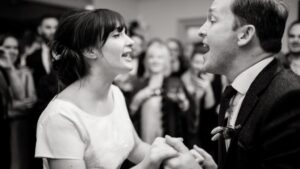 Check our prices (click the link)
1. Average Cost of Wedding Photography in Ottawa:
As of my last update in 2022, the average cost of a wedding photographer in Ottawa ranges from $2,000 to $6,000 for a full day of coverage. This usually includes the ceremony, reception, and a pre-wedding engagement session. However, these prices can vary based on several factors:
2. Factors Influencing Prices:
Experience & Reputation: Established photographers with a notable portfolio often charge more. Their experience ensures not just good photos, but a smoother process overall.
Duration of Coverage: While many photographers offer full-day packages, some offer hourly rates. This can be beneficial for smaller ceremonies or if you're looking to cover specific events.
Style: Specialized styles such as fine art, documentary, or film might command higher prices.
Deliverables: The final product – digital files, albums, prints, or a combination – can influence the price. Premium albums or large canvas prints can add significantly to the overall cost.
Travel & Logistics: Photographers located outside Ottawa or those who need to travel a long distance might add travel expenses to their fees.
3. How to Save on Wedding Photography:
Off-Peak Booking: Booking your wedding during the off-peak season or on a weekday can sometimes yield discounts.
Bundling Services: Some photographers also offer videography. Bundling these services can lead to savings.
Custom Packages: Discuss your needs with your photographer. They might be able to tailor a package that aligns with your budget and requirements.
4. Remember the Value:
While it's natural to seek savings, remember that these photographs will serve as lifelong memories. Skimping on quality might lead to regrets later. A skilled photographer doesn't just take pictures; they capture moments, emotions, and the essence of the day.
5. Final Thoughts:
Ottawa, with its scenic views and historic sites, offers a beautiful backdrop for weddings. While wedding photography is an investment, it's one that pays off in cherished memories. When budgeting, consider both your financial limitations and the value of high-quality photography. After all, these photos will be a tangible link to one of the most significant days of your life.